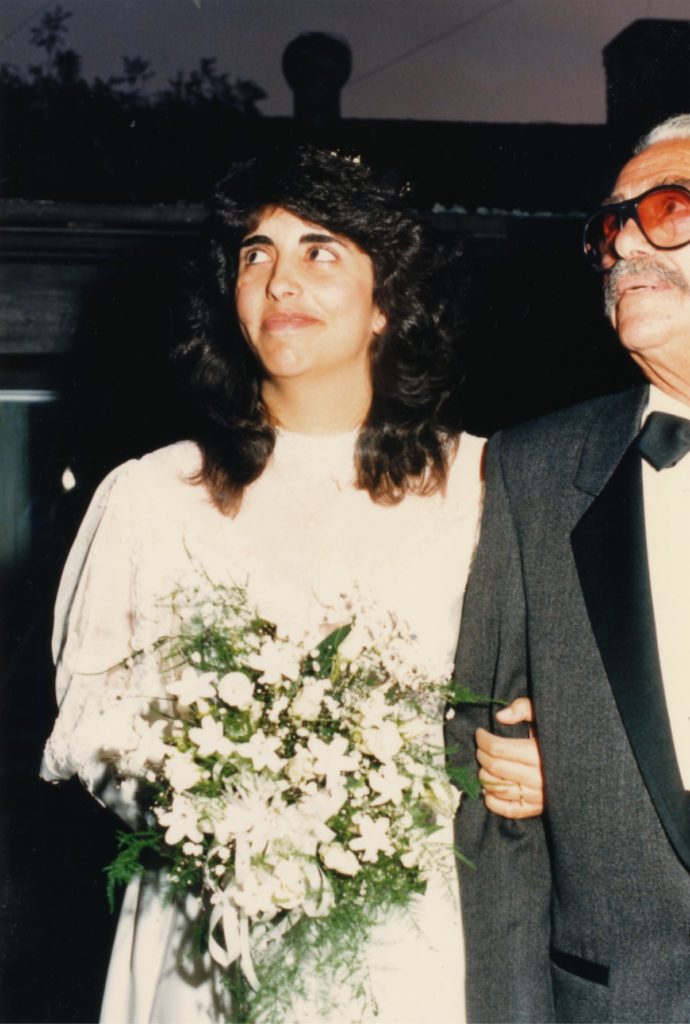 NOTE: This piece was originally published here 5 years ago today on Michael & Sally's 31st wedding anniversary. It's one of the author's favorite pieces because it's about one of his favorite subjects. And we thought, on the 36th anniversary of their *cough, cough* storybook union it might be worth revisiting. Thanks for your indulgence.
On May 2, 1987 a young woman took my hand, placed a ring on the closest finger she could find and speedily said, "I do." I repeated the gesture as it seemed only sporting at the time. With those two words I made Sally Klein the happiest woman in the world.
31 years have passed from that day to this, our Baskin Robbins® Anniversary. Yes, we are actually registered with the national ice cream retailer in case you were planning to send gifts in scoops, pints or those freezer-friendly 3-gallon tubs.
"With those two words I made Sally Klein the happiest woman in the world."
Sally's favorite flavor is Tax Crunch for its smooth blend of vanilla and Kona Coffee-flavored ice cream with a thick Fudge Swirl and Rice Crunchies. Mine is Vanilla. Like me it's uncomplicated and melts all-too-quickly at the beach. White Desserts Matter. Right on!
Tax Crunch ice cream
But this is not a dissertation on ice cream. If it were we'd be talking SpicyWifey and ChubbyHubby. One of those is a flavor I just made up. Hey, a fella can dream, can't he?
Wedding anniversaries are often fraught with danger for the male of the species as he is forever in danger of forgetting or confusing the day with another special event on the calendar—say, Tuesday. I have a different reason entirely for fearing spousal retribution on the day I was wed.
You see, I have three anniversaries.
No, I haven't been married three times. So far as anyone can prove I have but one wife. And I'm sticking to that story.
But there are three distinct wedding-related dates floating around in this increasingly-addled brain, and I work overtime to keep them straight. How did this happen, you may ask? Therein lies a tale.
Sometime back during the Reagan Administration, when life was simpler and Bushes were just plants along the road,  I asked Sally to be my bride. As her songwriting partner, my exact words were, "Will you be my collaborator for life?" Sure I loved her. But it was also the best way I knew to keep the royalties in the family.
As it was her dream to ride off into the sunset with her Prince Charming she immediately blurted, "Yes!" And by immediately I mean directly following her spontaneous combustion into laughter a few minutes later. You can watch the complete story as it is retold in this video.
We set a date. We were to be wed in about six months on May 5, 1985. Then something unforeseen happened. Sally called off the wedding. It seems a month before my proposal another Prince Charming had ridden in on His steed and swept the poor girl off her feet. His name was Jesus. And while she felt the would be room in her life for two dashing royals she soon came to realize there was a glaring problem.
She had a new moral compass in her life, solidified in the best-selling book of all-time. I, on the other hand, was wandering through my life without much thought toward a faith I'd grow up in but had discarded. Sally shared a scripture with me:
She explained that our parents once loved each other as much as we were in love. Both couples, however, failed to go the distance when love proved insufficient and the cracks began appearing. Mutual faith was a line in the sand she would not cross—not even for her heart's desire.
But she said something I will never forget, although Sally swears I remember this incorrectly. "I will wait for you to make a decision. I will wait ten years if I have to. If you decide to follow the Lord we can be married. If you decide on something else, we can be friends."
I told Sally, "I can't commit to God for you." Her reply was simple: "I wouldn't want you to."
To make a long story short I took the better part of a year and a half looking for, but mostly running from, God. Given our three decades-plus anniversary and our three beautiful daughters I'll let the reader decide who won that particular Celestial tug of war.
Now every year when May rolls around I always go through the same routine in my mind. Is our anniversary May 5 or May 2? I can never keep the two straight. And who can blame me?
So we have the Official Anniversary and the Woulda-Been Anniversary. What about that third anniversary I mentioned?
That's easy. Last year to commemorate thirty years together Sally and I recommitted our marriage before God and to each other on July 15, 2017. The event was magical. As we had done in the Official Ceremony and would have done in the Woulda-Been Ceremony we each wrote a song and sang it to each other.  For anyone interested here is mine. Sally's beautiful song for me resides here.
I know it sounds corny but it's absolutely true. Sally was more beautiful as she walked down the aisle toward me with our daughters as bridesmaids than she was thirty years earlier. Having God shine so completely through the prism of your being will do that to a person.
We will not do anything fancy this year to celebrate. I think we need to rest up from the last one. There is a wedding shower to host (Dusty's) and family staying the weekend.
Maybe  we'll do lunch at a local eatery or a share special meal at home. But I'm pretty sure there's an ice cream shop in our immediate future. For better or for worse—and it's mostly been for better—it's been 3 dates to remember,1 special girl and 31 flavors of adventure all the way.
Life doesn't get a whole lot better than that. Happy anniversary, Sally! Thank you for 31 36 AMAZING years together!