Recorded somewhere in one of my high school journal entries is a word I was given, a picture someone had while praying for me. They said I was like a little bird caught in a thorn bush, beating my wings to escape. I needed to stop frantically thrashing and let God reach in and pull me out.
At the time, I had no understanding of how to "stop thrashing." It was too abstract for me to implement. How exactly does the step-by-step procedure of "stop metaphorically thrashing" go?
It turns out there are many areas of my life where I have been thrashing myself against the brambles, and it is taking a great deal of time to sort them out. One such area has been my writing. Around age 11, I wrote a book review for a small class newsletter called The Homeschool Times. It was the first time I had ever seen my work in print, and I enjoyed the process of putting together words and submitting them for publication.
At the time, I had no understanding of how to stop thrashing.
I began writing short journalism pieces, poems, riddles, and serial stories. After the class ended, I joined our church's Youth Group newsletter staff and continued this activity. I also wrote stories at home, both for my own pleasure and for assignments. At age 13 I attended the Mount Hermon Christian Writer's conference with Dad, presenting my short story, The Island of Bookadise for consideration. I am no longer surprised that it went nowhere, but it was good experience for me to submit writing for professional feedback.
At every stage of my writing development, I was told I was a very good writer for my age. I glowed under the praise and kept at it. The next time I attended the writer's conference, it was in my mid-teens. I touted a few chapters from an unfinished manuscript called Abba's Daughter about a girl in the Holocaust who could see the spiritual realm. This time, a few editors asked me for a book proposal.
I froze. I never contacted them back. To this day, Abba's Daughter collects dust in a binder. To this day, I cannot fully explain why I was too terrified to keep going, though I have explored many theories in search of the reason.
Around this time, I discovered fanfiction. What is fanfiction? Let's say, for example, that you have read the Harry Potter series. You may have loved it or hated it, but you want to write something that changes parts of the story.
So you begin writing a story, taking the same characters and creating a new adventure for them to go on. Or perhaps you write a new character who wanders the halls of the setting that J.K. Rowling conjured, Hogwarts School of Magic. Perhaps you write the same characters who existed in the story, but instead of placing them in Hogwarts, you write that they all live underwater as mermaids. Perhaps you didn't like that one of the characters died in the book, so instead you write a story that allows for them to live while everyone still achieves the same goals necessary for a happy ending. Maybe you always wanted a couple of the characters to fall in love, but they didn't in the books, so you write a story where they did.
The caveat is that you can never sell this work. You cannot profit off it. The characters and setting are under someone else's copyright, therefore it can only exist as a free expression of your love of the story. Your only payment is feedback from readers.
That is fanfiction. That is what I stumbled into.
I was in the middle of a depression, so I started out writing sad endings to the Phantom of the Opera and traumatic follow-ups for The Great Mouse Detective. I gave one severely unhappy character in Edward Scissorhands a backstory as to why she behaved the way she did. I tried to flesh out the poetry in Song of Songs with a surrounding narrative.
I was surprised to find a mostly supportive community of readers who left feedback on chapters almost as soon as I posted them. When I started writing fanfiction for my all-time favorite cartoon, Invader Zim, I began to establish what you might call a reputation as a writer who would make you cry. Given my own struggles with depression and the glowing feedback I received when I did so, it's no surprise I pulled that lever every chance I got.
During this time, God was always working on me in the background.
Many changes happened along the way. I went on medication. I graduated high school and left for college in another state. I dropped out of college and learned how to hold down a job and live with housemates. I came back to my home city and went off medication. I learned how to hold down a more challenging job while commuting with a bike and holding down a shared apartment. I tried to develop a third original novel, a story about a writer whose writing influenced a parallel fantasy world. I called this third attempt The Keep and I hoped, desperately, that I would somehow finish it and not disappoint everyone who believed in me and the gift I was developing.
During this time, God was always working on me in the background. My writing style shifted from trying to shock my readers and wring tears from them for no good reason, to displaying a struggle to survive in spite of insurmountable odds with the promise of hope in the future. I re-learned what joy and hope felt like, and the struggle between hope and despair, depression and joy began to feature prominently in my writing. I began to cut back writing for shock value and, instead, focused on breaking characters down to their rock bottom for the purpose of rebuilding them to be much stronger than they ever could have dreamed.
The many moods of a frustrated writer
In all this, I also discovered I was what is known in writing circles as a "pantser." When you have a "planner" you have someone who bullet-point-lists things out, has a planned structure, and works well by fleshing out the planned path their story will take. A pantser "flies by the seat of their pants." In my case, that means that I watch characters interact in my head and attempt to clean all that up into something semi-readable while leaning on those characters really hard to get them to go in the direction I want them to. More often than not, though, they grab the reins and run off with the plot, causing me so much trouble that I have to spend several hundred thousand words properly fixing the consequences of some split-second decision they made.
My online reputation shifted slightly. I still am known to make people cry, but now they know I will not leave the end of the tale in utter darkness.
As of today's date, I have been writing fanfiction for almost fifteen years. I have 70 stories that have a combined total of over 1.1 million words. I've written almost every form there is to write, from poem to short story to novella to novel-length series. All this, yet I have struggled with The Keep for about ten years, having re-written the first thirty thousand words about four times, deeming each attempt "not good enough." I've never finished a full draft.
I live and breathe a good story.
What is my problem? Who can say? But it surely is not that I'm unable to handle a story structure. For now, it seems my brain works best at extrapolating interesting situations from a framework that already exists.
I have beat my brain bloody trying to write original fiction. Shame permeates my attempts. On many counts, fanfiction seems like it is a waste of my time and talent. I can never profit from it, I will never see widespread distribution, and how is it serving God anyway? Is it not just hiding my talents under a barrel? What is its worth if it isn't original, and if it isn't touching numerous lives for the Kingdom of God
But the stakes on writing original fiction seem too high for me to make any mistake, while fanfiction continues to flow from me, flaws and all. And in the course of my writing, many people have left reviews telling me how encouraged they have been by my writing. Some, even, have been encouraged in their faith. Even some self-expressed atheists have said I made them consider things they wouldn't otherwise consider.
I am in a period of my life where I am learning to let go of frantic efforts to beat myself into the shape I am "supposed" to be in. I am a writer. I live and breathe a good story. It fills me from head to toenails with a vibrant energy when I pull off an exceptionally cathartic chapter. I have a very small following in the grand scheme of things, but for those few, I have a voice in their lives. And while few of my stories speak the name Jesus Christ—indeed, many of my tales toy with demons, spirits, and mythical deities—the backdrop breathes principles of hope and redemption from the darkest of circumstances. My stories are filled with overcomers who grow and heal in ways that cannot be stolen from them ever again.
These days, I read less fiction and more non-fiction than I ever thought I could comprehend. Where once I sought to escape the real world at every turn, now I seek an understanding of the world I am in. This, I believe, is what God has for me to do right now. What He has for me in the future, who knows? That is something else I am learning to let go of.
I continue to write fanfiction, and I have loosened my grip on the concept that I must produce original fiction. Perhaps someday I will. But if that day comes, it will be because God has healed me, brought me through enough of the brambles, to make it so. Instead of beating myself against this branch of the thicket any longer, I wait for His guidance in this matter.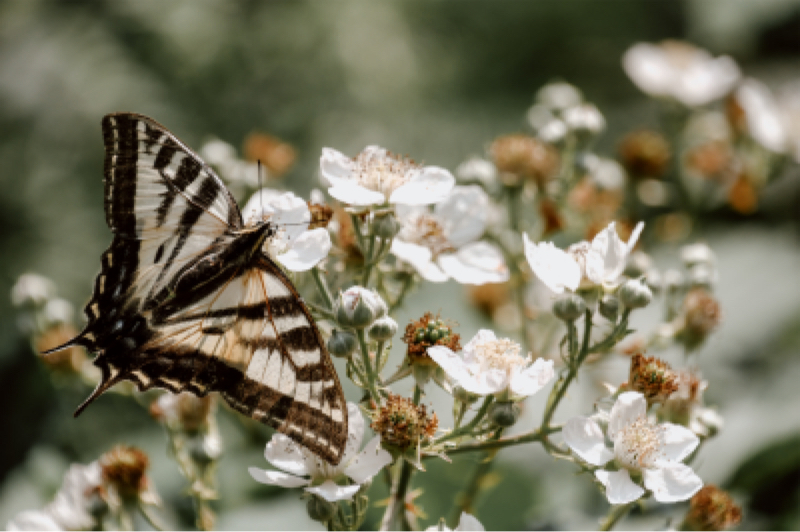 Note:
Dusty Rose writes online under
the penname Hecallsmehischild.
Her fanfiction writing can be found
on four different platforms, but the
stories she is most proud of may be
found here.