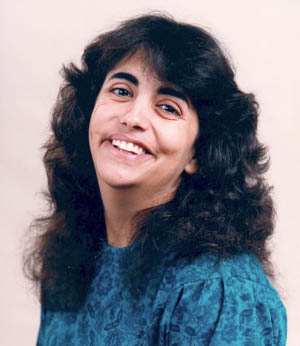 I was born into a middle class, Jewish American family, which would have made me a "princess" except that my father was a florist, not a doctor. We celebrated almost all the traditional Jewish holidays in a superficial way. While I was taught there was a God, I never really knew him.
For the first few years of my life we lived in a predominantly Jewish neighborhood in Los Angeles called the Fairfax area. While we lived there my father took my brother and me to his mother's orthodox synagogue on the High Holy Days. My mom rarely went. She didn't like how the women had to sit on one side while the men were on the other. I remember the apples and honey each year and the rabbi's blessing on Rosh Hashanah, "May your name be inscribed in the Book of Life!"
We moved around the time of my 8th birthday, to a very different section of L.A. Before I had a chance to make friends something happened that changed my life forever. On the way to the school bus stop I bent down to pet a neighbor's dog and was bitten on my face. It took one hundred stitches to close the wound. When I returned to school my classmates gave me a new name. They called me "Scarface." For the next 3 years I heard that name every day—on the school playground or in the neighborhood. But long after I stopped hearing it with my ears I continued to believe it was the truth of my identity. From then until I turned twenty-seven that name—more than anything else that happened—shaped and defined me in ways without number.
When my brother died at eighteen from cancer, my parents' marriage fell apart after 30 plus years, and I was left with a lot of angry questions. I began searching for answers. From Ayn Rand to Zen I sought truth through pages and people I thought had already found it. But none of their philosophies filled the empty place in my heart.
Two close friends, also Jewish, had become believers in Jesus the Messiah. One lent me The Great Divorce and the other recommended Mere Christianity. Both books by C.S. Lewis spoke to me in some deep places and impressed me very much. But Mere Christianity ignited a question that filled up my heart and mind: "How could there be a God in this cold and infinite universe who could love me?"
That very night God answered me. Suddenly I awoke, and at first everything was normal. But then, without warning, I was completely filled with a love I had never known. Far beyond mere human emotion, it was without any shadow, so pure and holy I knew nothing within me could produce such a feeling. At that moment I realized, even though I didn't want to, that God was touching me. And then, in an instant, it was over.
The next morning I called up my best friend, who was also Jewish, and told her what happened. She assured me that it was something from my deep subconscious. But I knew what touched me that night had come from outside of me. I also realized that if I wanted truth I had to accept that God had answered my question by revealing Himself to me. I could no longer label myself an atheist or agnostic. There was a God.
However, that God existed and cared for me was one thing, but Jesus was another. Being every bit as "stiff-necked" as my forefathers, it took me all of nine months to invite Jesus into my heart.
My good friend Ross, who lent me the first book by C.S. Lewis, offered to take me to Yom Kippur services at Ahavatzion Messianic Synagogue in Beverly Hills. Barry Budoff was the rabbi at that time. I fasted that day for the first time in many years and spent the morning at the synagogue. I came back for the evening service to break the fast. Afterwards, Rabbi Barry came over to talk with me. I was pretty hostile, even though God had been dealing with me for several months since that night He touched me. I asked Barry if he had ever seen Invasion of the Body Snatchers, an old sci-fi movie that portrayed normal people possessed by plant pods from outer space. This was, in fact, my real opinion of people believing in God at the time. It was as if they had been taken over by aliens, and had become zombie-like in their religion. Barry didn't drop a beat and said, "I keep them in my office. Would you like to see?" As Ross and I followed Barry over to his office I thought nothing of it, but Ross was tearing up. In that office, on Yom Kippur night in 1984, I took my first very hesitant steps toward faith in Jesus the Messiah. Later that night, I stood on top of Mulholland Drive, overlooking all the lights of the San Fernando Valley and affirmed to the Lord that I really wanted Him in my life and desired to know Him more. I did not realize how much my life would change as a result of this decision.
Michael and I had been going together for two years. We met in a songwriting class and started collaborating. He wrote positive country songs while I preferred to express my angst in blues and ballads. I was especially attracted to his red hair and freckles. As time went on we both had a deep desire to write songs that would matter. Little did we know then how God would fulfill that dream. Michael asked me to marry him a month after I became a believer. I accepted somewhat hesitantly, realizing that Michael was not interested in knowing more about God. But he agreed to go to a pre-marital class at a nearby church, and that's when things got really tense. I felt convicted that we were unequally yoked, and that without being on the same page in terms of what we believed, we would wind up like our parents–separated and divorced. So I finally, tearfully, told Michael I couldn't marry him now; that he needed to decide what he believed about Jesus. And if he didn't believe in Jesus, we could still be friends, but I couldn't agree to marry him—as much as I so very much wanted.
I remember Michael warning me we might never get married and that he would not believe in Jesus for my sake. I told him I didn't want to be with anyone else and I would wait for him. And true to his word, Michael didn't do it for me. Two years we struggled with our feelings and my faith, but there came a day when Michael knew God was speaking to him and he opened his heart to the Lord.
As I began this strange and wondrous journey my faith was tentative at best. My heart had been balled up like a fist for years and I wasn't about to surrender the tender parts to One I hardly knew–not even the One I acknowledged as Lord.
But God, with a gentle and merciful hand, began to peel away the layers of skin grown over like scabs on the wounds of my heart. He showed me His scars through the Scriptures, and in the living testimonies of His people. In time I began to understand the depth of love they signified. His love opened my fists and loosened my heart.
As I turned to Jesus and allowed Him to touch those raw and tender places, I began to heal.
There are wounds that lay open upon our bodies for everyone to see. In the course of time they heal, to whatever degree they can, and become scars. They remain as markers in our lives, but they are healed and no longer painful to touch.
Then there are those hurts that no one can see. Often these take longer to heal. Now, like the physical mark I bear from the dog, there are scars in my heart where once there were wounds. Grace has taken pain's place.
It is my hope that my scars become windows through which people may see the beauty of God's Son and how everything He touches is transfigured by His love.
It is the hope of my husband, Michael, and I that God will use our words and music to "bind up the broken-hearted" and set the captives free.
"But we have this treasure in jars of clay to show that this all-surpassing power is from God and not from us." (2 Corinthians 4:7)