Daily News & Testimonies
Sally: Today we spent the entire day setting up a more intimate environment in the sanctuary at the church, and also in the dining hall.  We set up for about 140-150 women (although only about 90 women are actually signed up), Paradise residents are  notorious for showing up at the last minute. So–lots of cooking, cleaning, setting up tables, moving couches, bud vases and tablecloths–candles too (although only glass enclosed). Everyone worked well together and there were some very lively conversations.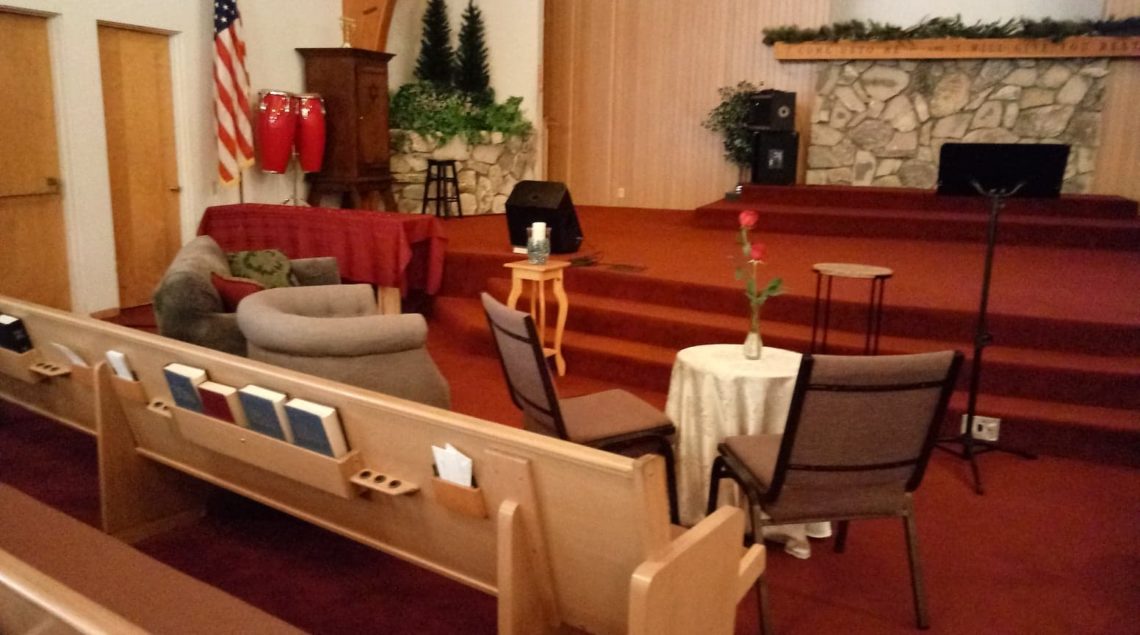 Menu for tomorrow's lunch includes chicken breast with veggies, rice, and salad bar. Dessert is a chocolate brownie (dense chocolate )with whipped cream and berries. Iced tea, Mint lemonade and bottled water.
We joined Sam and Heather at a favorite Chinese restaurant of theirs, and we have dinner for tomorrow night also. Please keep the team in prayer as we prepare for the conference in the morning. We are up and out at 6AM.
The women on the team will be speaking and ministering to the women of Paradise and surrounding areas. The men on the ATOR team will be serving the women at lunch and throughout the day.
This is a 100% ATOR sponsored event. The conference and lunch are free to the women of Paradise. The team is in charge of the logistics and elbow grease. God is in charge of the Provision.
Prayer & Praise
Rita needs prayer for her feet. She was standing on them all day cooking today and both feet hurt a lot, especially the one she sprained badly. Please pray!!
Yara needs prayer for her back–and for sleep. Sleep issues for Rita, Joan, Randy and Dave.
Joan, Yara, Stephanie, and Mallory all need prayer as this is the first time they are speaking in this kind of event and have not had much experience.
Heather, Evi, and Sally also need prayer in deliver the message God has given. Pray the Lord will anoint each..
Tomorrow night we will debrief on the team and trip and it usually takes a few hours. Please pray for everyone to receive what God has for them.
Pray for the Lord's presence in the Something beautiful Conference and also for His protection.
Pray for unity and everyone helping each other as we go through the day tomorrow.
There are currently about 90 women signed up for the conference. We expect there may be more. Please pray that every woman would connect with the Lord during the conference, and there could be healings, salvations, deliverance.
ATOR Itinerary
2/8 – Saturday
6AM – Devotions – Worship – Dave/Devotions – Gary
7AM – Breakfast
8AM – Registration for Something Beautiful Conference @ First Baptist Church in Paradise
9AM – Welcome/Conference
5PM – Clean-up and set-up for Sunday
7PM – Dinner
8PM – Debrief
2/9 – Sunday
7AM – Devotions – Worship – Joan/Devotions – Mallory
8AM – Breakfast
9AM – Pack
10AM – First Baptist Church
11AM – Sally Klein O'Connor & Friends presentation @ First Baptist Church in Paradise
1PM – Lunch
3PM – Drive home to Southern CA
2/10 – Monday
Joan departs Sacramento Airport @ 12:45PM on Delta Airlines Flight# 3654 and arrives in LAX @ 2:20PM. Departs LAX @ 3:50 on Delta Flight #1005 and arrives @ St. Paul, MN @ 8:49PM. Departs St. Paul @10:41PM on Flight #2650 and arrives in Winnipeg @ 12:15AM, Tuesday 2/11. Mallory departs LAX on Delta @ 1:50PM and arrives back in Phoenix @ 4:22PM. Jurgen is leaving on Monday (not Tuesday) @ 7:35PM from Sacramento to LAX nd then onto MN and from there to International Falls and Fort Frances.
Photographs taken by Yara Panther. Thanks Yara!