Brunch at Mimi's Café is always a good idea
Not a lot of news to print on this first report. Why? Sunday was a travel day–a time for leisurely fun and fellowship between ATOR team members. Here's a brief recap: Mallory left AZ Saturday and flew to L.A. where she rented a van for us. She drove to Casa O'Connor in North Hollywood early Sunday morning to rendezvous with Sally, Gary, Stephanie, Raul, Dave and Yara. Sally and Mallory drove up the 99 freeway, stopping at Mimi's Café for breakfast.
Later in the afternoon the two vehicles pulled into Casa Hall in Yuba City, home of dear friends Tom and Evi. This group was joined by Jurgen and Joan who had flown in from Canada–and boy were her arms tired. Sam and Heather Walker also dropped down from Paradise to join in the fellowshipping activities.
Despite Mama Bear's admonitions the team was permitted Super Bowl privileges while getting to know one another better. Sunday evening the team then drove about 90 minutes north to Chico, just outside of Paradise, where they will be staying.
I may have missed a detail or two but the worst you can say is this is incomplete news–not fake news. Below are a bunch of pics to help you get to know the team better as A Tour Of Roses prepares their assault of sharing God's extravagant love with the fire-torn town of Paradise, CA
---
Mimi's Cafe
"Dear Lord, Please let my food come before malnutrition sets in . . . "
Gary learns the lesson of the Beatles: All you need is—well, you know . . .
"Hep me! Hep me! I been hip-mo-tized!!!"
CASA HALL IN YUBA CITY
ATOR alums reunite as Sally stares down the paparazzi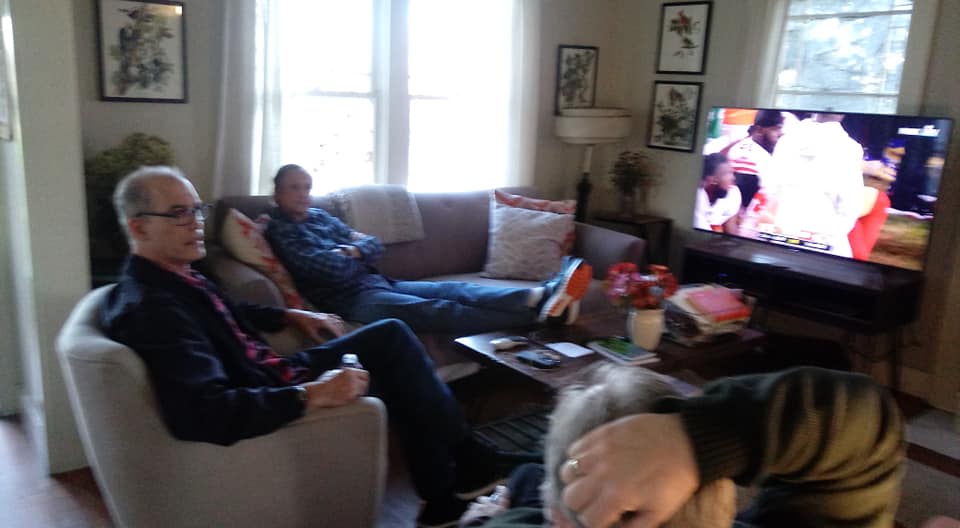 Spirituality reigns on Super Bowl Sunday
Mallory proves some kids never grow up
Just chillin' with the Halls
"I can't believe the 49ers lost that game . . . "
Thanks for stopping by. Even if you don't get an email reminder you can check in daily by following this link and bookmarking it. See you tomorrow when we share the teams opening foray onto the streets of Paradise.