I am facilitating a group from our church in a study called Experiencing God by Henry Blackaby. We are about 3 weeks away from finishing the workbook which takes about 13 weeks in total. I have probably engaged this study myself and with others possibly 14-15 times now over the last 25 years. It is an awesome study! One might even say—life-changing!
Everything up until this point has been about our individual walk with God, but recently we start on Unit 10, which is about the church—in essence a community of believers. And once again I am so profoundly struck by how far away we are from the prayer Jesus prayed—and I think is still praying—in John 17, that we would be one as He and the Father are one, because this, in fact, is our witness to the world that Jesus was sent by the Father.
Paying respect to the letter of the law, but ignoring the spirit.
What I see instead is our fleshly passions heating up over what and who we think is "right" and what and who we think is "wrong." I grew up with an understanding of the right and wrong my parents taught me, along with a complete set of Encyclopedia Brittanica in their very impressive hardback bindings with a special bookshelf just for them. Everything was included in those books—or so it seemed. But a few years ago I sold them, because knowledge and information has changed so drastically over these last few years that much of what they had to offer seemed outdated. And so, too, our understanding of right and wrong. So small and so limited, so very flawed, much like the Pharisees. Paying respect to the letter of the law, but ignoring the spirit.
God is Holy. There is no doubt. But He is also Love. And without His love and grace, you have only the law of right and wrong, and no one could stand in His presence on that basis, apart from His Love and Grace. I am not saying we shouldn't look to the Bible to begin the process of understanding what is right and what is wrong. But we should always pursue it with the perspective that the foundation for it all is that "God SO loved the world…" (John 3:16)
And what kind of witness are we, who are supposed to represent Him on the earth, giving to the world right now?
And if His Love is truly our foundation in the Body of Believers, why are we hurting, demeaning, and tearing each other apart for what we perceive to be right and wrong? I ask you again, where is Love? And what kind of witness are we, who are supposed to represent Him on the earth, giving to the world right now?
Someone will be elected soon as president of the United States. That man will be sinful and flawed, just like you and me, whoever is or profess to be. And he will need God and our prayers in greater measure than ever before. Will you be praying for the newly-elected President? Have you been praying all along?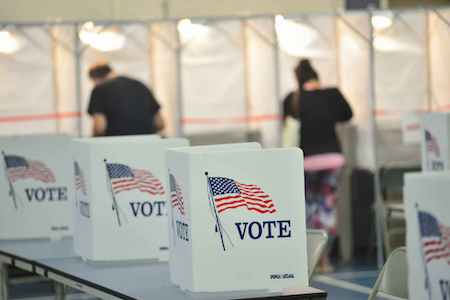 I wonder how much God truly cares about who is elected in comparison to how we, His children, are interacting with each other in this season? I am not advocating against voting as you prayerfully consider all the issues. We have the opportunity to raise our voice in this manner, to whatever degree it is actually heard and considered, and I believe we should definitely participate by voting. But whoever is elected is only human, along with all the rest.
It is God who sits enthroned above the heavens and the earth. And He who is the Creator, in His great heart of love for us, bends down to make Himself known to every living soul through His word, His ways, His Creation. And through we who have received Him as Lord. What and who are we focusing on? And His primary language is Love. Are we speaking that language to each other? Are we living a life of love so that all the world will see and know that God sent His Son?
I pray… that all of them may be one, Father, just as You are in Me and I am in You. May they also be in Us so that the world may believe that You have sent Me. May they be brought to complete unity to let the world know that You sent me. (John 17:-20-21, 23)